MMX is Powered by Modern Muscle Performance
Call Today: 276
.

666

.

1934
Over
40 Years

of HEMI Experience!
Modern Muscle Xtreme Newsletter
International Order Notice:
First time international Modern Muscle Xtreme customers purchasing product in excess of $500.00 are required to pay by money order or bank transfer. Please call or email for more information before placing your order.
Modern Muscle Performance offers in-house installation as well as other HEMI hotrod related services!
ModernMuscleXtreme.com Accepts:
We Currently Do Not Accept American Express.
HEMI Roots Style Superchargers
Sub Categories
Roots style superchargers are excellent for providing nearly instant torque off the line. You can experience this with your HEMI powered hotrod using one of Edelbrock's TVS2300 E-Force superchargers. These complete supercharger systems provide maximum flow, minimum temperature rise, quiet operation and reliability only the Edelbrock name can guarantee. They feature minimum air restriction in and out of the supercharger for optimal flow. They also include individual 7" long intake runners that allow for maximum low end torque and great drivability.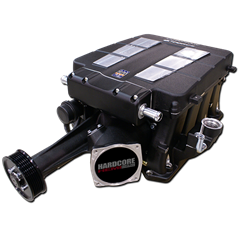 Copyright © 2017 Modern Muscle Performance All Rights Reserved.